Ashraf Habibullah to Keynote Revit Technology Conference
It was a privilege for us to be at the Revit Technology Conference this summer. We were excited to take part in a conference that highlights the latest trends and software in the engineering, architecture and construction industries.
Ashraf gave his keynote address to an audience of more than 600 building professionals. He shared his passion and enthusiasm for Technology, Architecture and Engineering, the grandeur and glory of which are worthy of celebrating!
Indeed, it is because of the brilliance of Architectural Engineering that ancient monuments are still standing and why breathtaking new structures—such as the Burj Khalifa in the UAE and the Bird's Nest Stadium in Beijing—can exist today.
Ashraf brought into focus the invaluable socio-economic contributions of such noble professionals by recognizing their unmatched impact on humanity. He created a mainstream appreciation of their work by leveraging the powerful positive social and economic aspects of their work.
Ashraf presented the importance of technology while also emphasizing the importance of a broad based education in order to further leverage the impact of technology.
He addressed the importance of exposure to the arts in the creation of our unique identities, the talent of public speaking, an understanding of inspiring power of passion and belief, the need for marketing and public relations in this age of information overload and the study of human psychology in understanding human behavior.
The audience left with a renewed appreciation for the ways in which our professions make the world a better, safer, and more beautiful place to live for all of us, and for countless generations to come.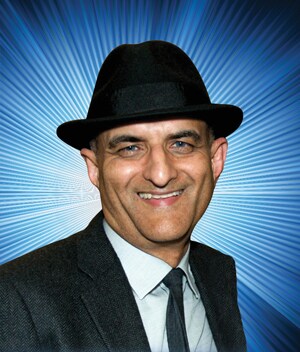 About Ashraf Habibullah, S.E.
Ashraf Habibullah, Registered Civil and Structural Engineer, is President and CEO of Computers and Structures, Inc. He founded CSI in 1975. Today, CSI is recognized globally as the pioneering leader in the development of software tools for structural and earthquake engineering. The software is used by thousands of engineering firms in over 160 countries. CSI products are also recognized as the standard tools for research and education worldwide and CSI has donated software to thousands of universities for teaching purposes. Through these donations, CSI has helped to ensure that the technology necessary to produce seismically-sound structures reaches everyone. Ashraf has led the development of CSI's products for nearly four decades and has been very active as a consultant, researcher and educator, conducting international courses and seminars on analytical techniques and numerical methods used in software for Structural and Earthquake Engineering.