International Design Codes
Shear-Wall Design Report- Eurocode 2-2004 enhancement to report wall unbraced height used for computing pier buckling load capacity.
Material Library - Russian material library updated.
Slab/Beam Design - CSA S16-09 and CSA S16-14 enhancement limiting the total effective width of the slab to 1/4 the span of the beam and taking in account the amount of deflection caused by shrinkage of the concrete.
Output and Display
Database tables reporting story and diaphragm maximum and average drifts.
Drifts now reported at brace locations.
External Import/Export
Export of AutoCAD .dwg files for AutoCAD versions 2015 and 2016 now available.
Enhanced Application Programming Interface (API)
Plugins written to access API (Application Programming Interface) now accessible within ETABS.
Chinese Version
Tailored summary report now provided for the Chinese version of the program.
Results of three methods in "Frame Overturning Moments in Dual System" now included in database table for the Chinese version of the program.
Modeling
A new 2-D modified Darwin-Pecknold concrete model has been added to the nonlinear layered shell. This model represents concrete compression, cracking, and shear behavior under both monotonic and cyclic loading, and accounts for crack rotation.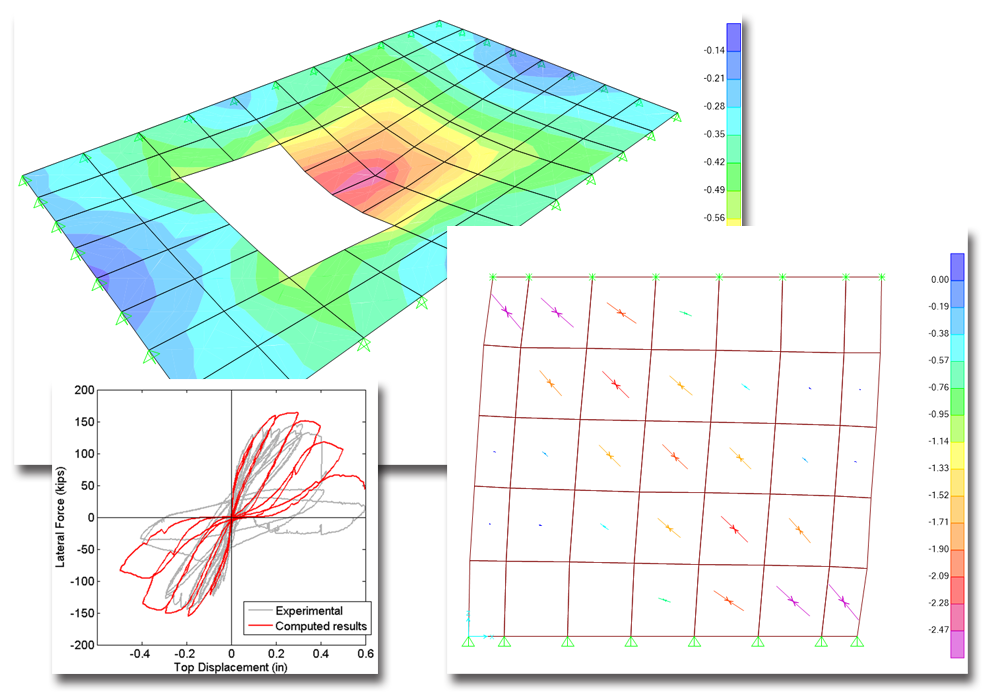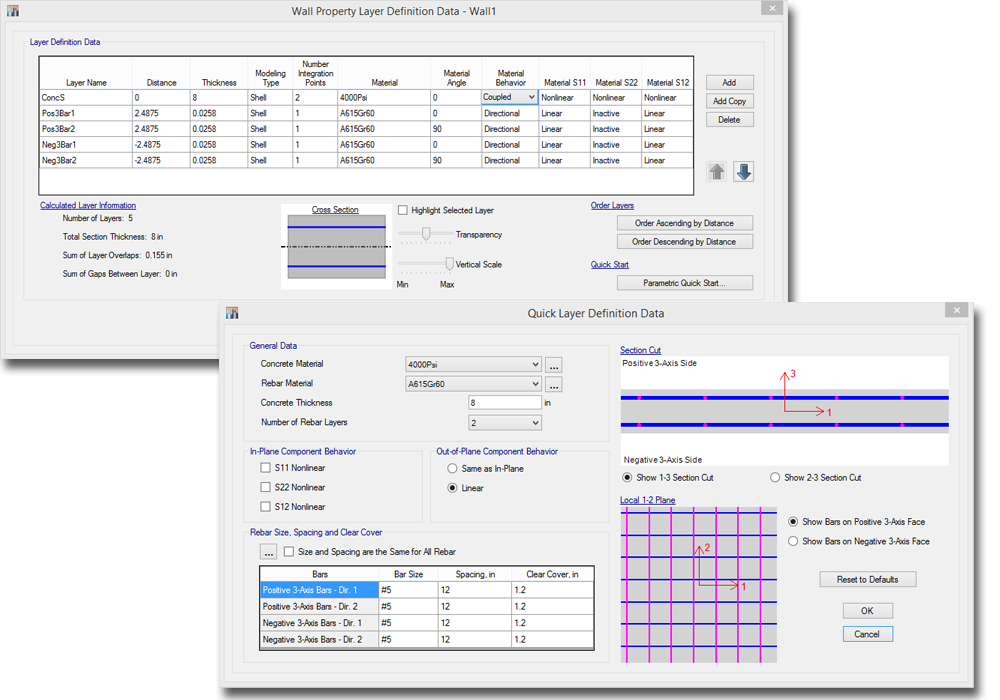 Time-dependent creep, shrinkage, and stiffness behavior has been added for the CEB FIP-2010 and ACI 209R-92 codes and for user-defined curves.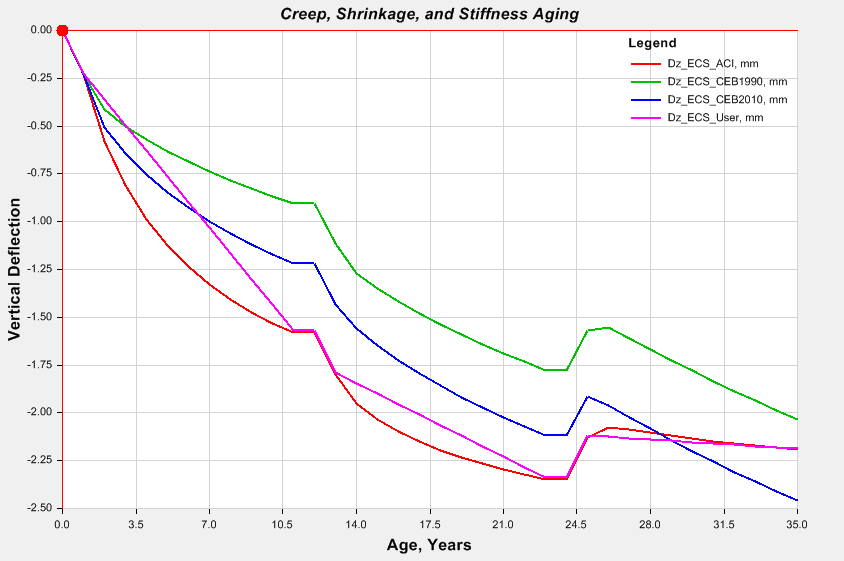 Notional size for time-dependent creep and shrinkage behavior is now specified on the section properties rather than at the material level, and can be automatically computed or user-defined.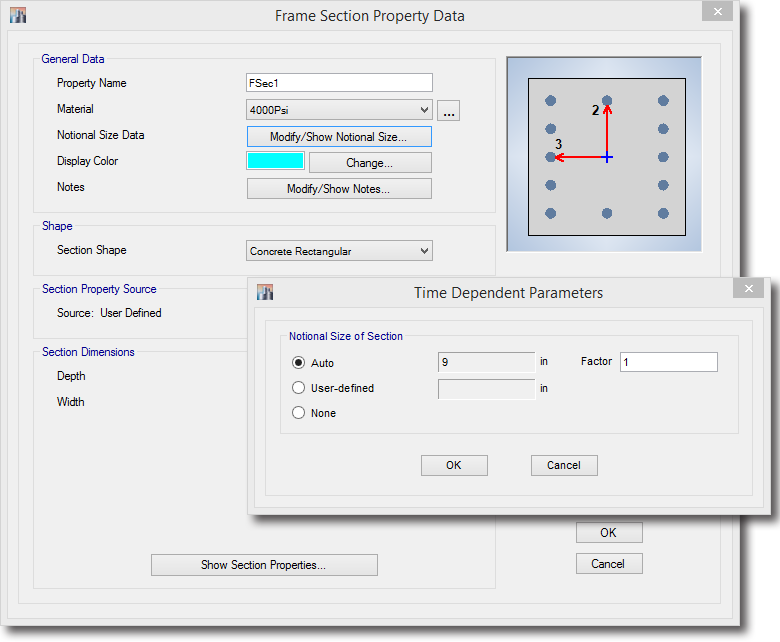 Loading
Automated seismic lateral loading has been implemented for the Dominican Republic R-001 code.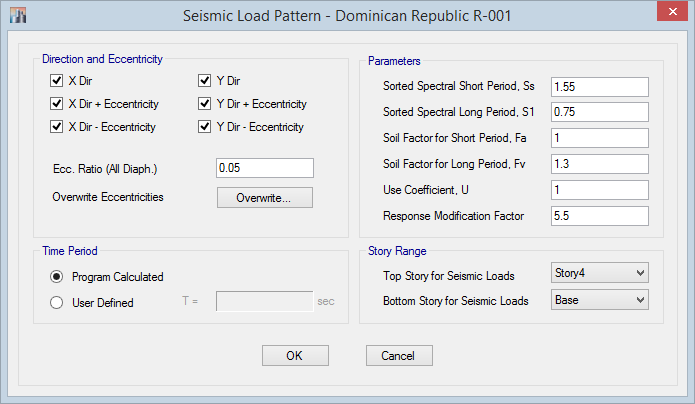 Automated response-spectrum functions have been implemented for the following codes: Costa Rica Seismic code 2010, Ecuador (NEC-SE-DS 2015), Mexico (CFE-93 and CFE-2008), and Peru (NTE E.030 2014).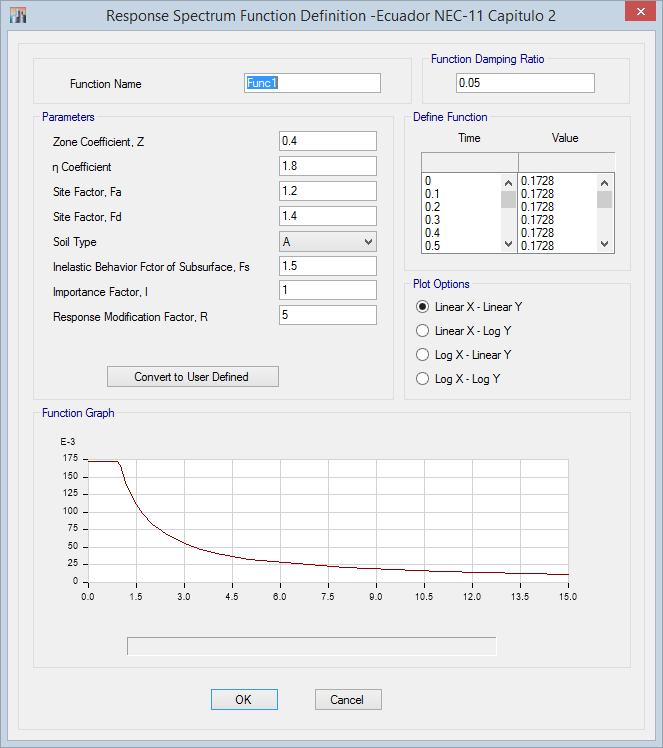 Analysis
A new stability check has been added for nonlinear static load cases to report when the structure may have failed under material or geometric nonlinearities that are not obvious from the analysis results.
The speed of nonlinear static and nonlinear direct integration time-history analysis has been increased for models containing many linear shell elements.
Design
Several enhancements have been implemented for composite beam design to increase productivity and to improve reporting.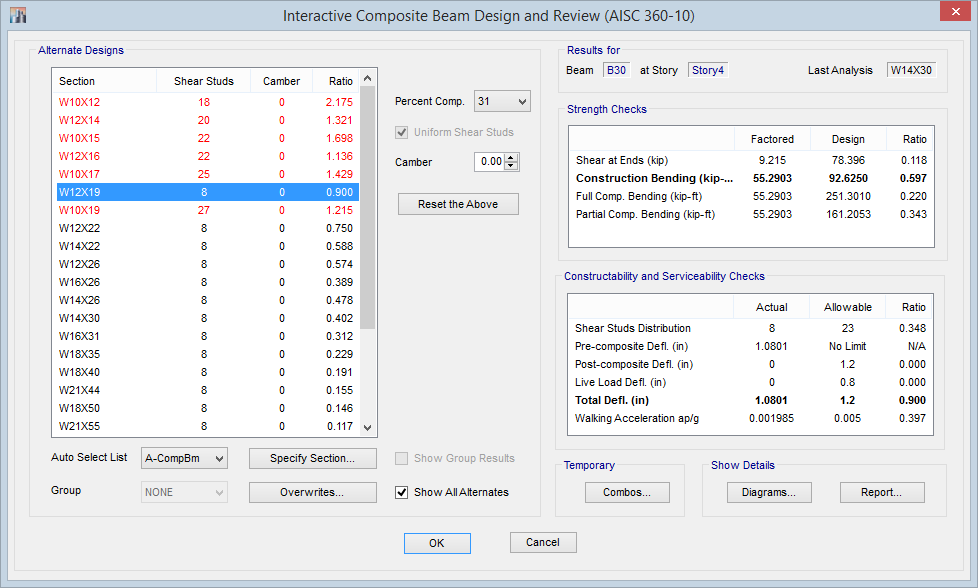 Introducing Automation of Performance-Based Design
Performance-Based Design (PBD) is a major shift from traditional structural design concepts and represents the future of earthquake engineering. These new procedures help assure that the design will reliably meet a desired level of performance during a given earthquake.
The fundamental component of PBD is nonlinear dynamic analysis where an attempt is made to capture the real behavior of the structure by explicitly modeling and evaluating post-yield ductility and energy dissipation when subjected to earthquake ground motions. ETABS 2015 introduces new special purpose options and algorithms for the practical and efficient application of these procedures.
Automated PBD hinges and procedures based upon ASCE 41-13
Steel and concrete fiber models for shear walls and columns
Stable and Fast Nonlinear Analysis (FNA) implemented for PBD
Automated Nonlinear hinges in shear walls based upon user/design reinforcing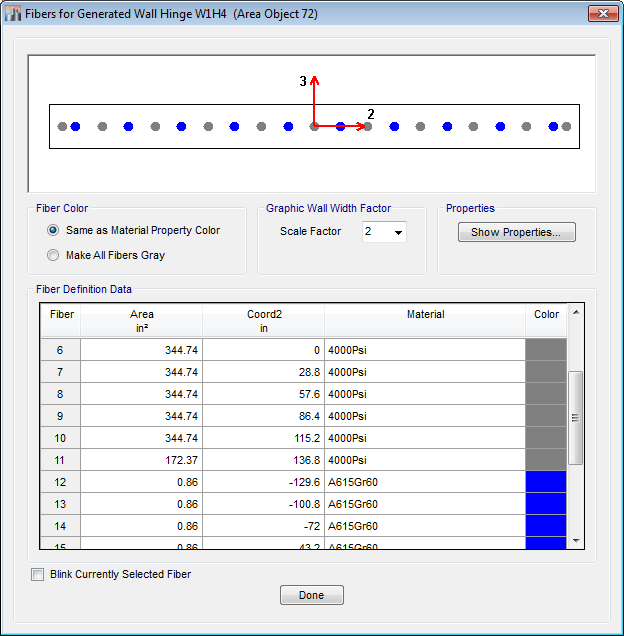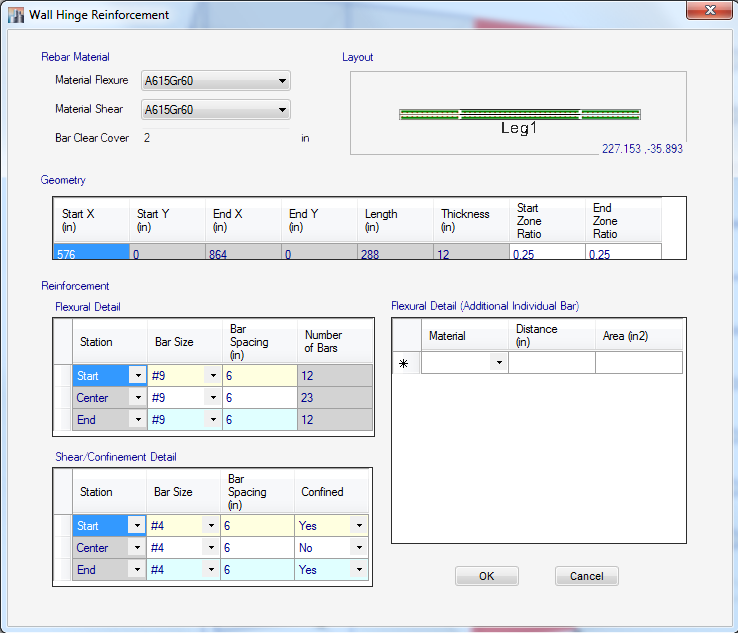 Steel and concrete material models with performance levels (confined and unconfined)
Material strain as performance measure for D/C ratios
Generalized displacement constraints for strain evaluation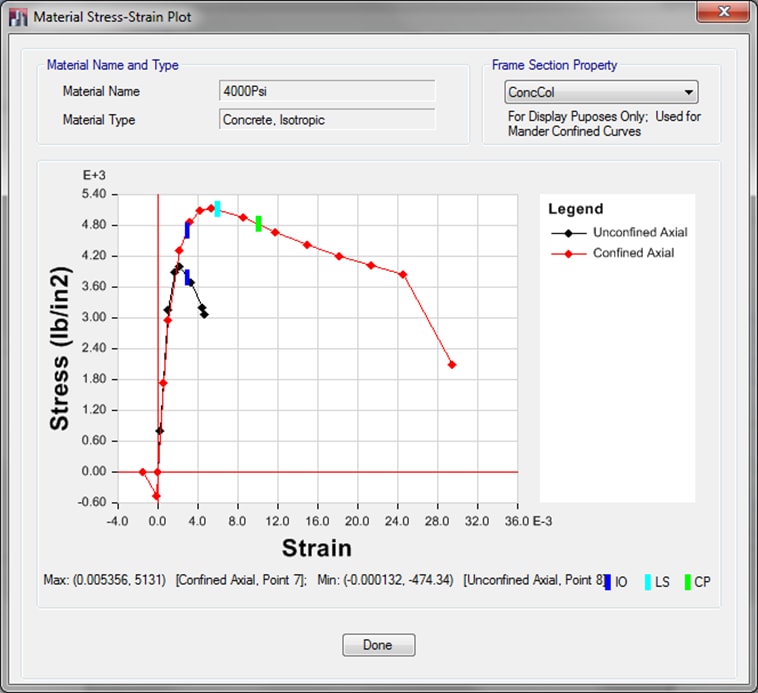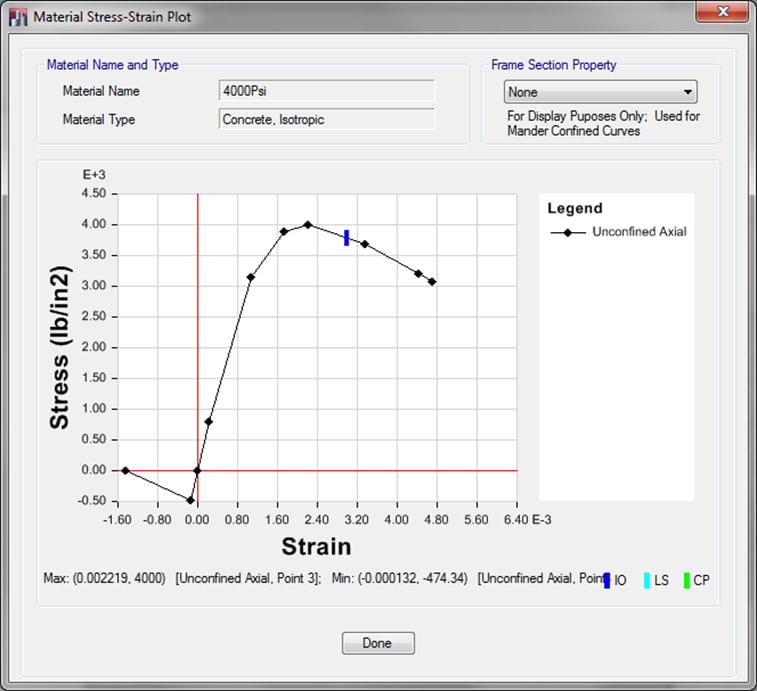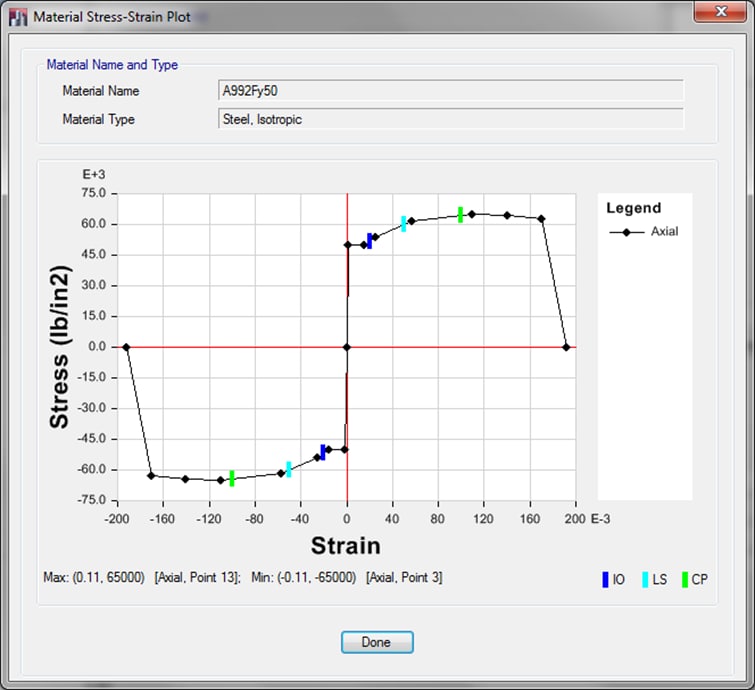 Several new hysteresis options for nonlinear hinges
Options for hysteretic stiffness and strength degradation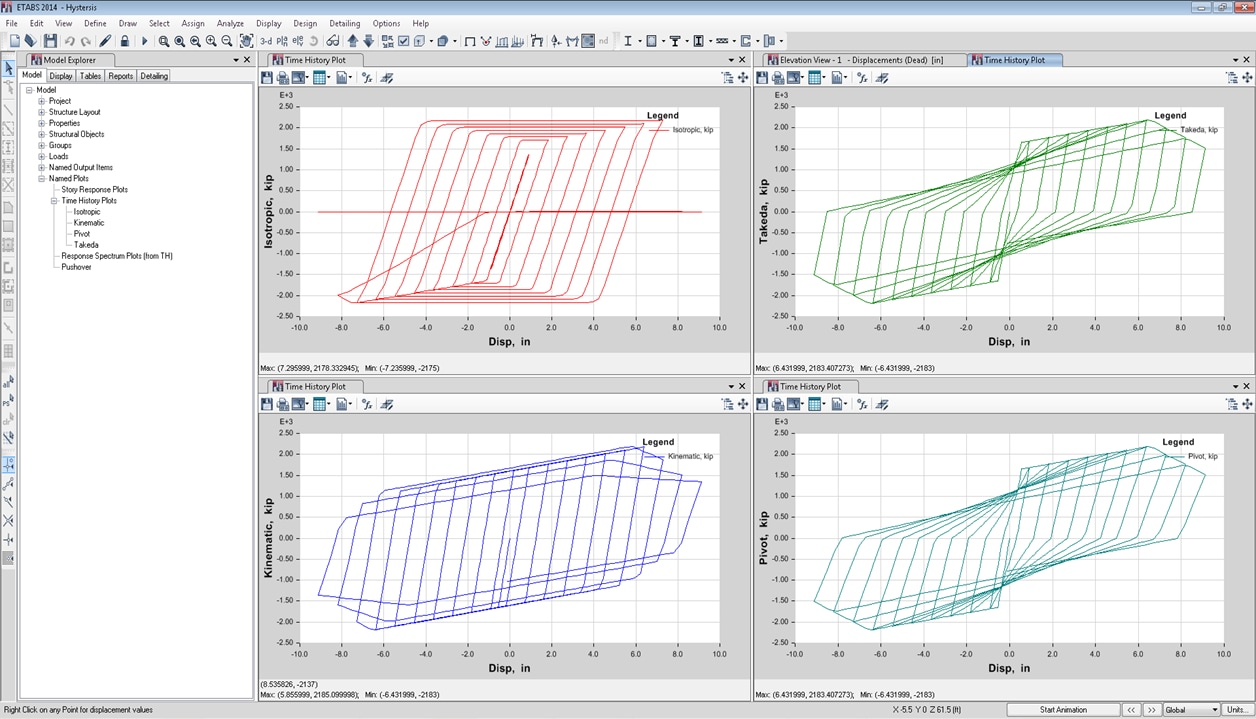 Output averaging of responses over several time history runs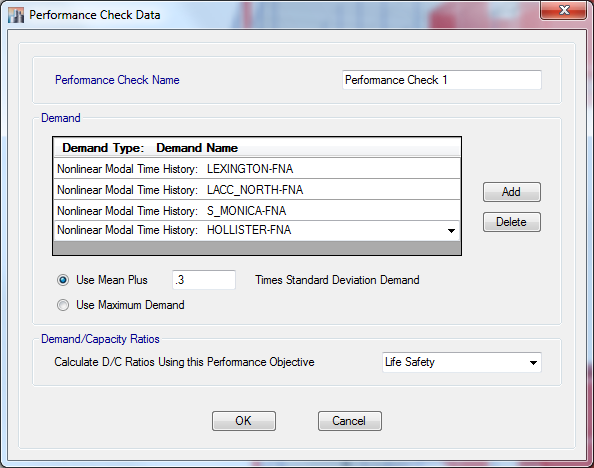 Quasi-static (Dyanmic) option for Static Pushover analysis of complex models
D/C ratio plots and tables for fast performance evaluation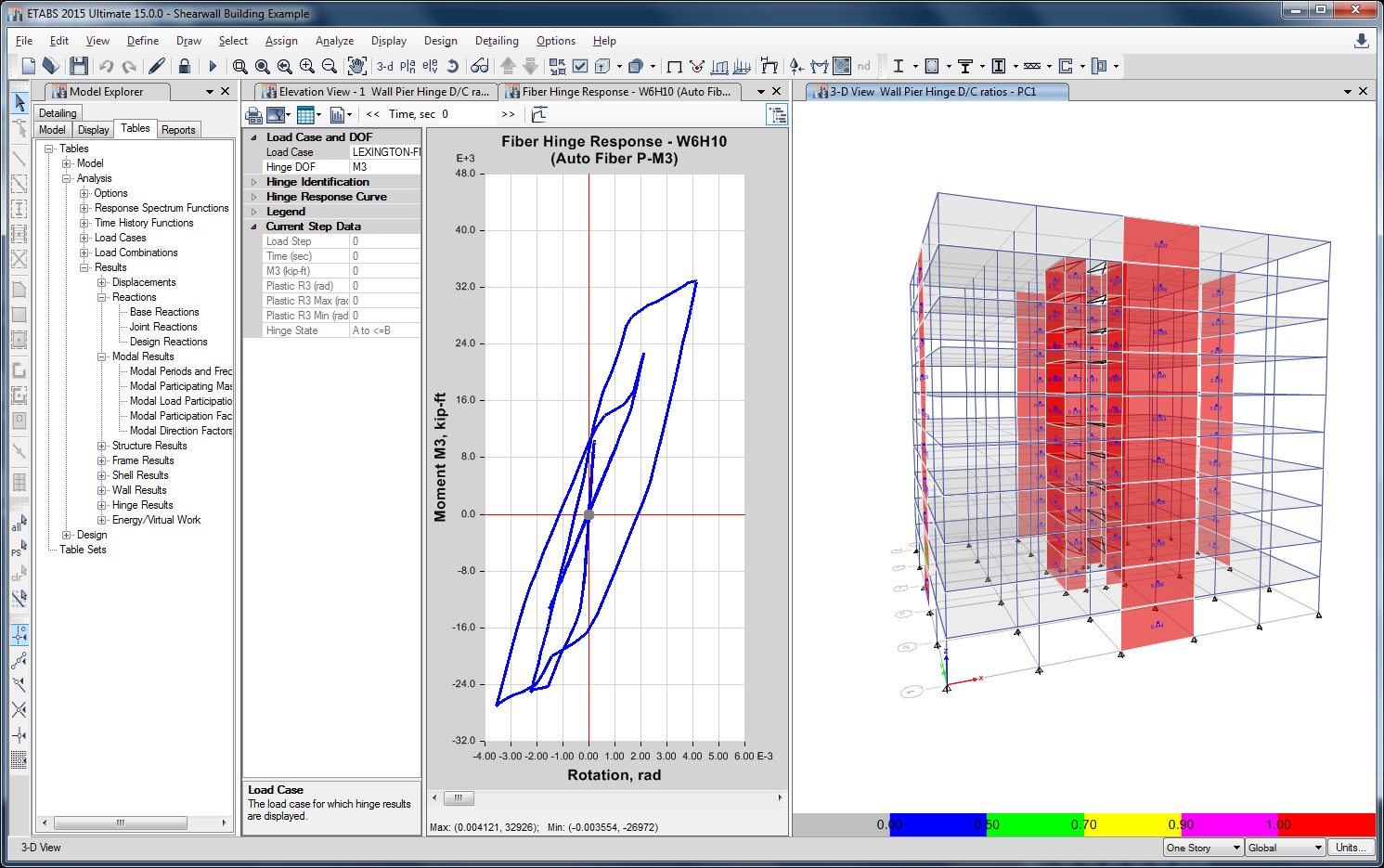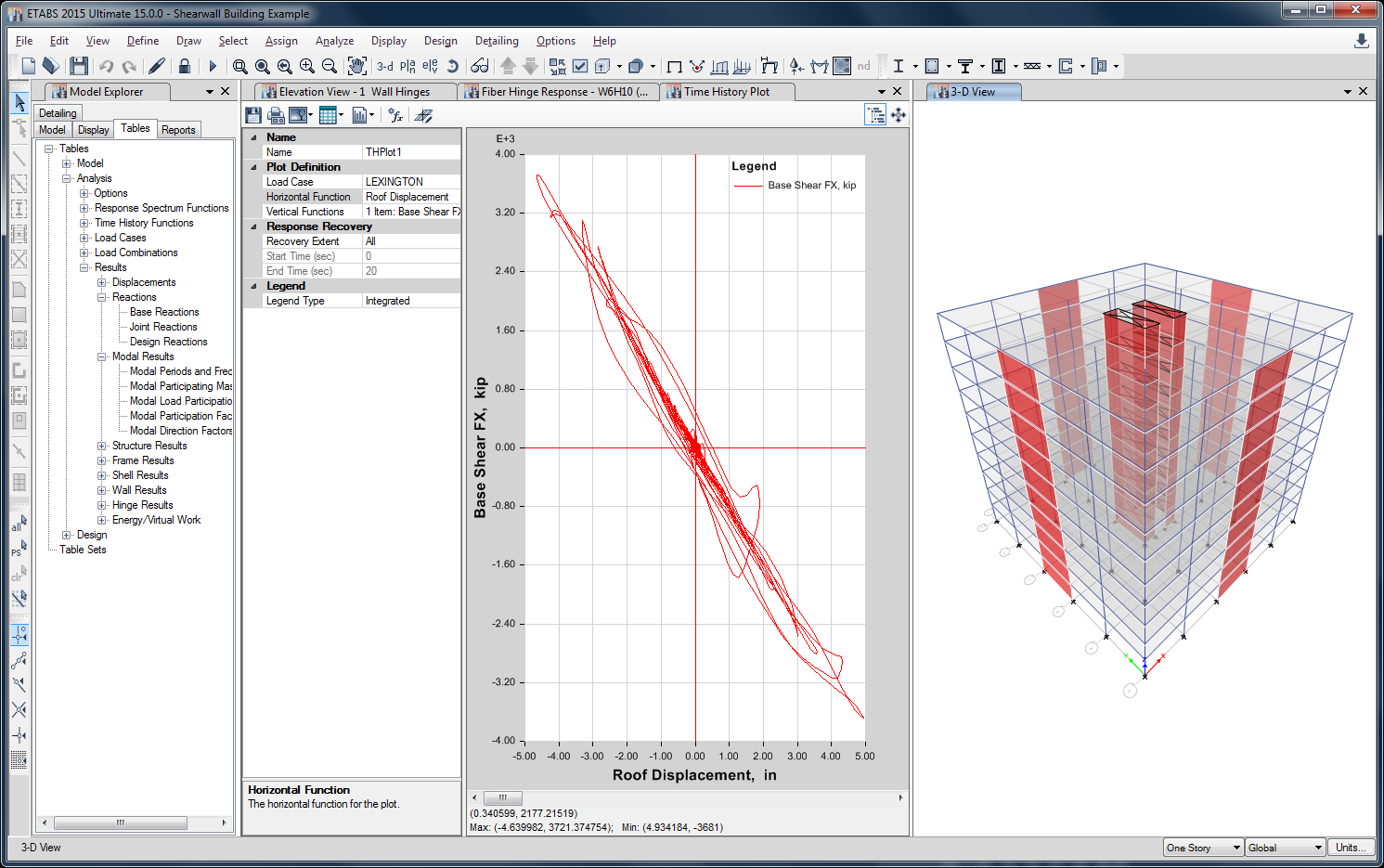 Automated Bucking Restrained Brace (BRB) modeling (Star Seismic)
Friction-spring hysteretic damper and Bilinear Maxwell oil damper property
New Graphical User Interface
Fast DirectX graphics with full display, drafting and selection capability.
Customization of toolbar and shortcut keys.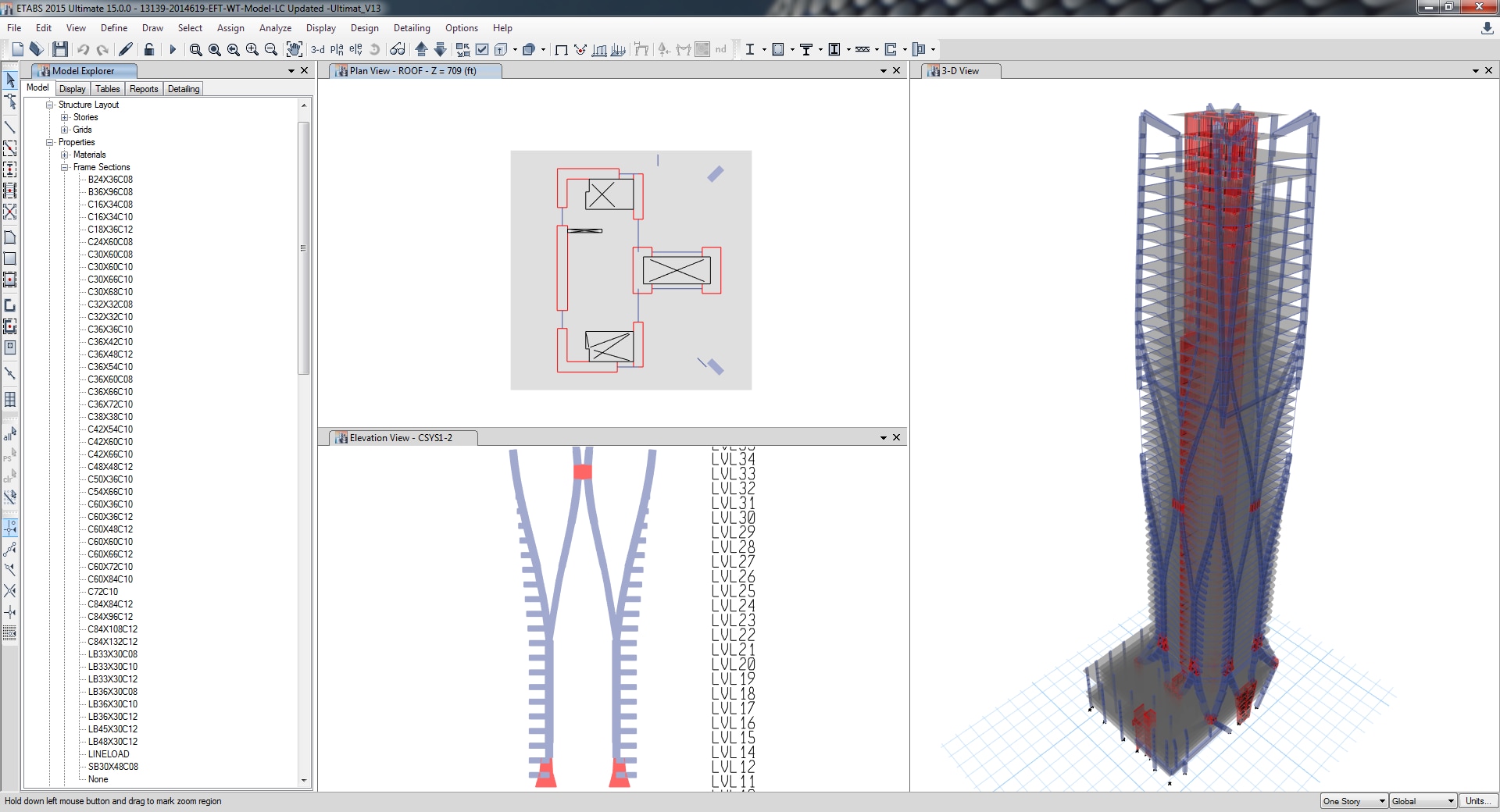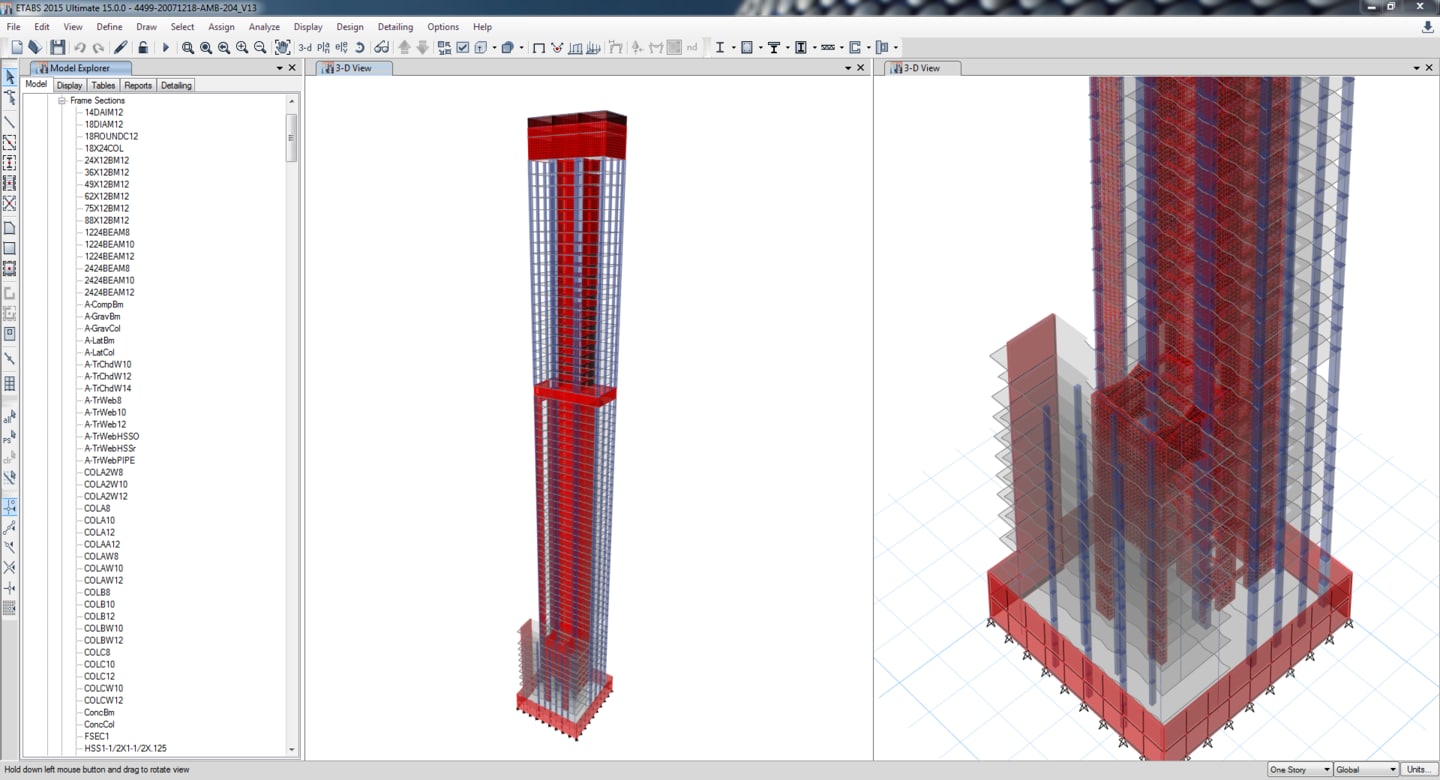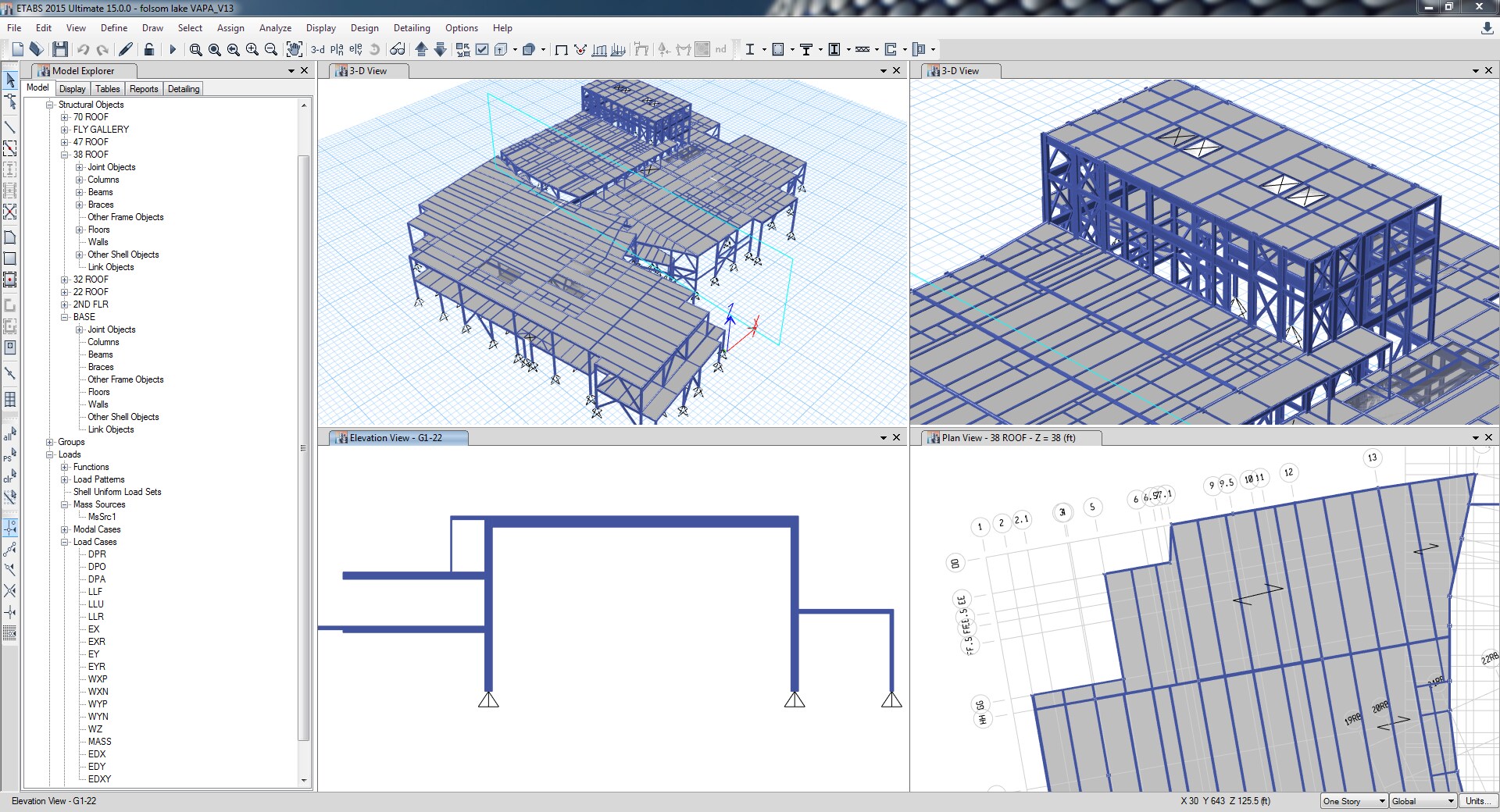 New Advanced Modeling Options
Spectral matching of time history functions
Generation of artificial earthquakes using spectral matching
Multiple mass sources for nonlinear analysis
Modification of geometry by mode shapes for imperfection analysis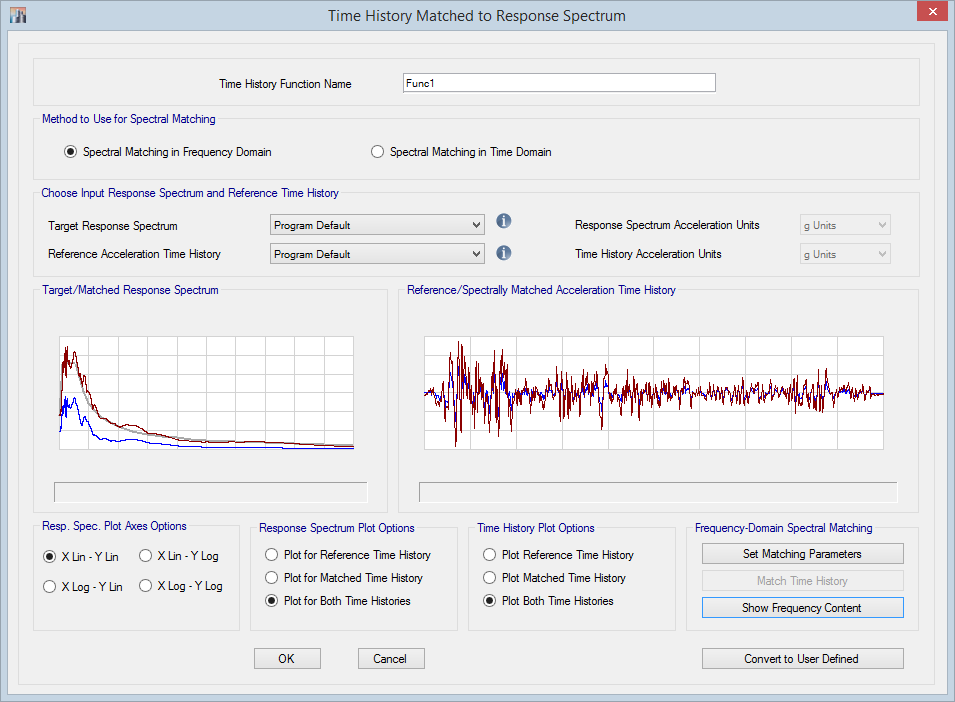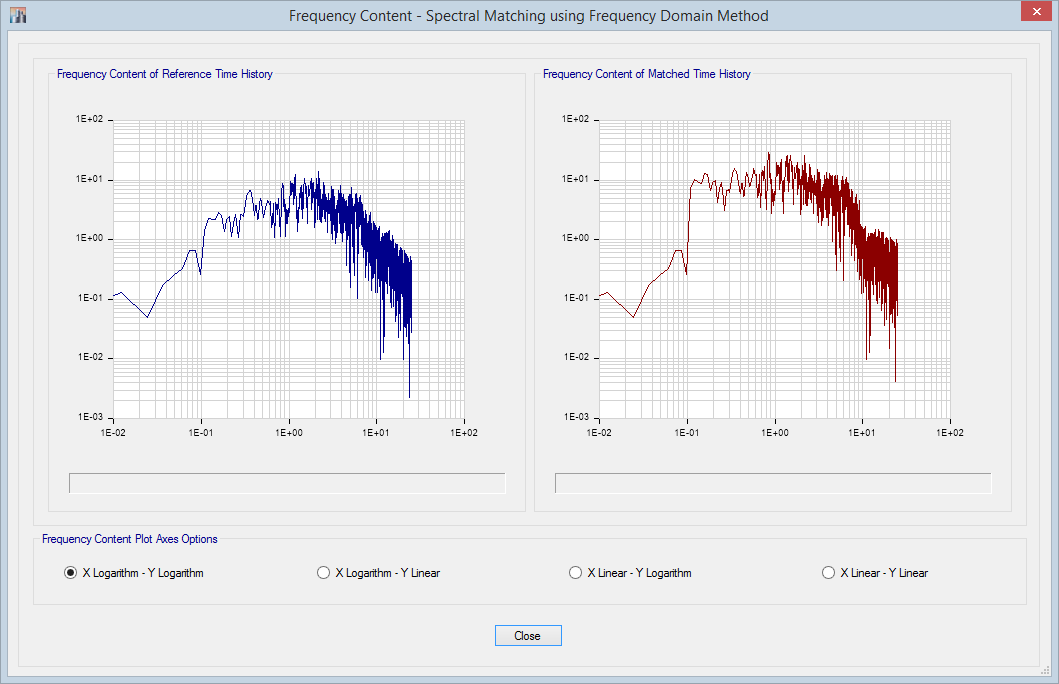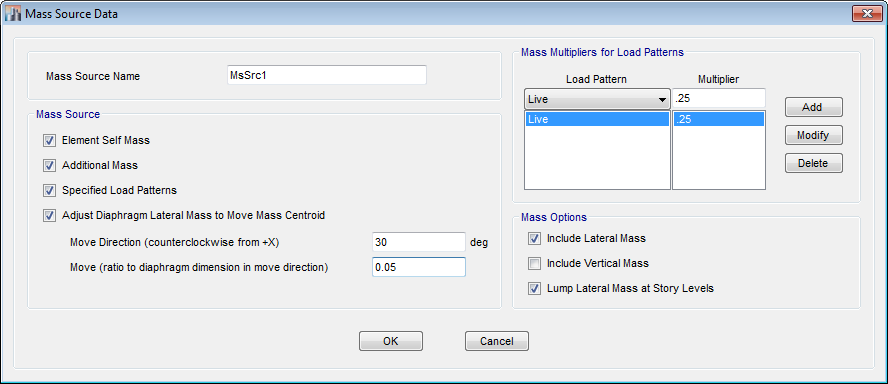 New International Frame Design Codes
Composite Beam Design - Enhanced User's Interface
Composite Frame Design - Canadian CSA S16-14
Concrete Frame Design - ACI 318-14, CSA A23.3-14, and KBC 2009
Steel Frame Design - CSA S16-14, and KBC 2009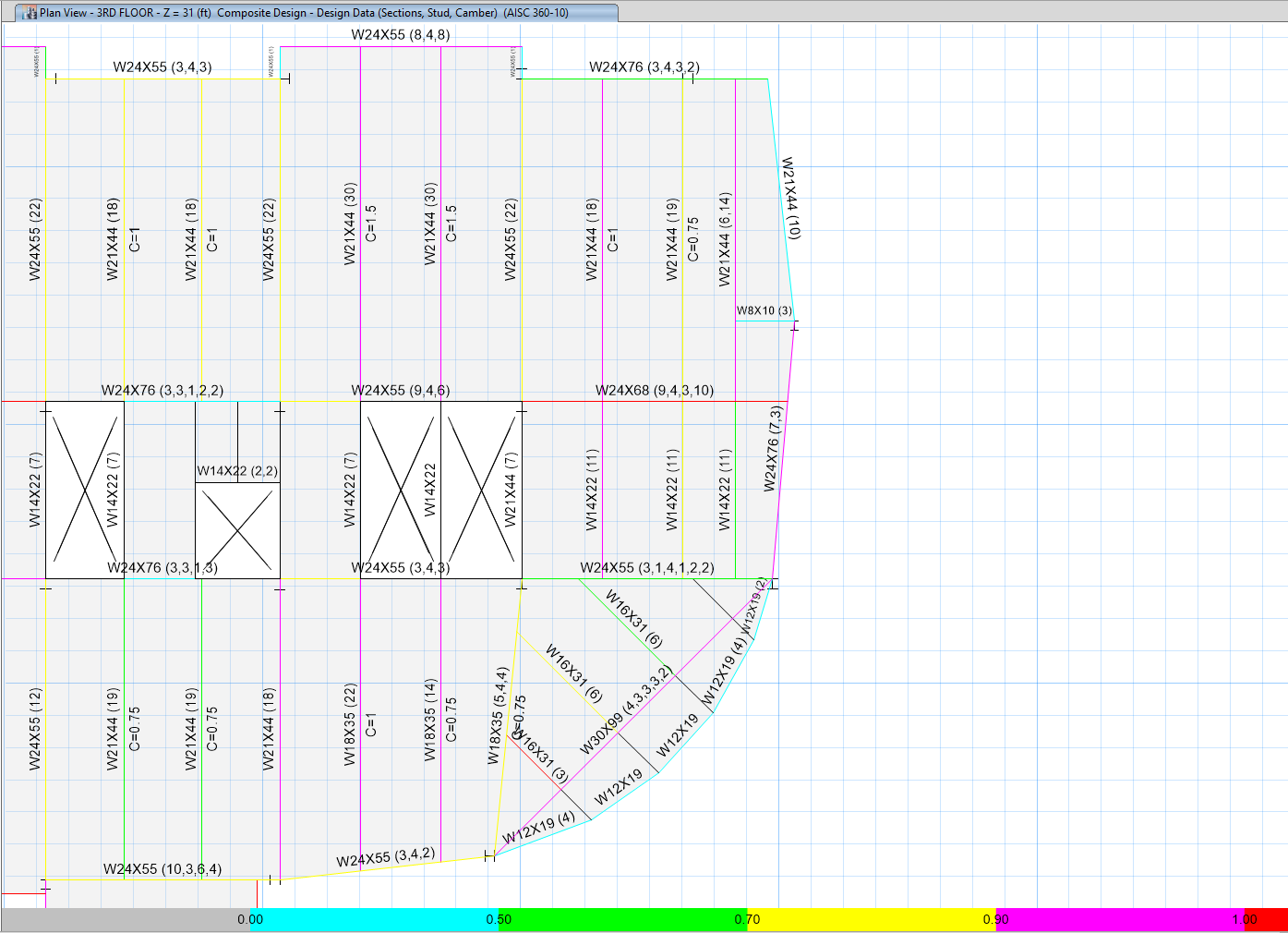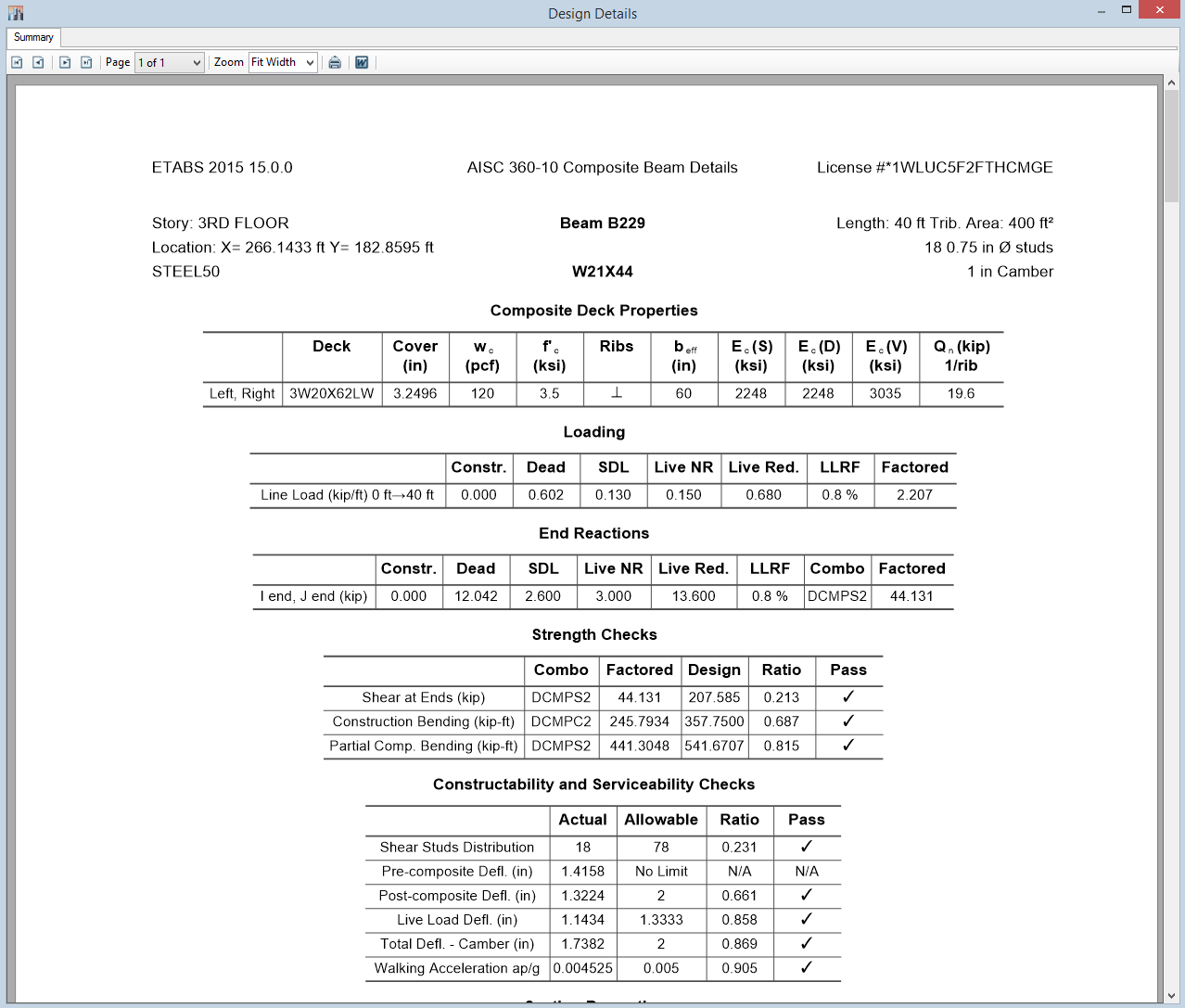 New International Shear Wall Design Codes
Design Codes: ACI 318-14, CSA A23.3-14, and KBC 2009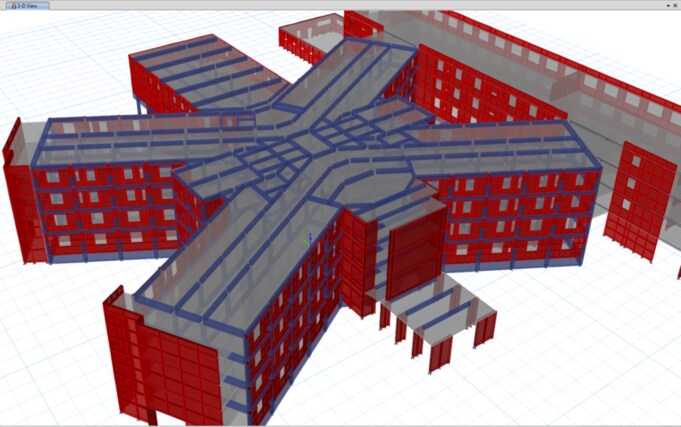 New International Loading Specifications
Automated response-spectrum functions for Argentina, Chile, Colombia, Dominican Republic, Ecuador, Guatemala, Mexico, Peru, and Venezuela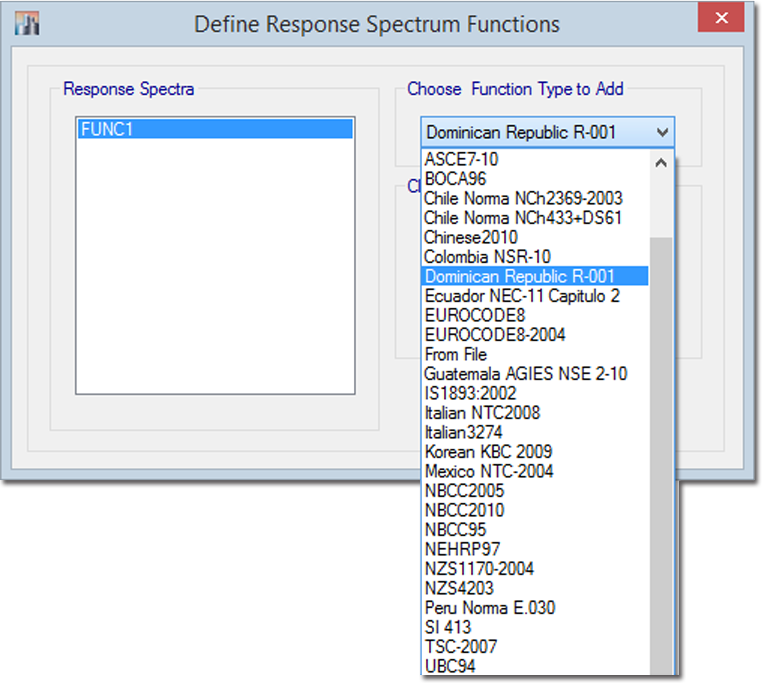 Enhanced Application Programming Interface (API)
Additional API support for design data and results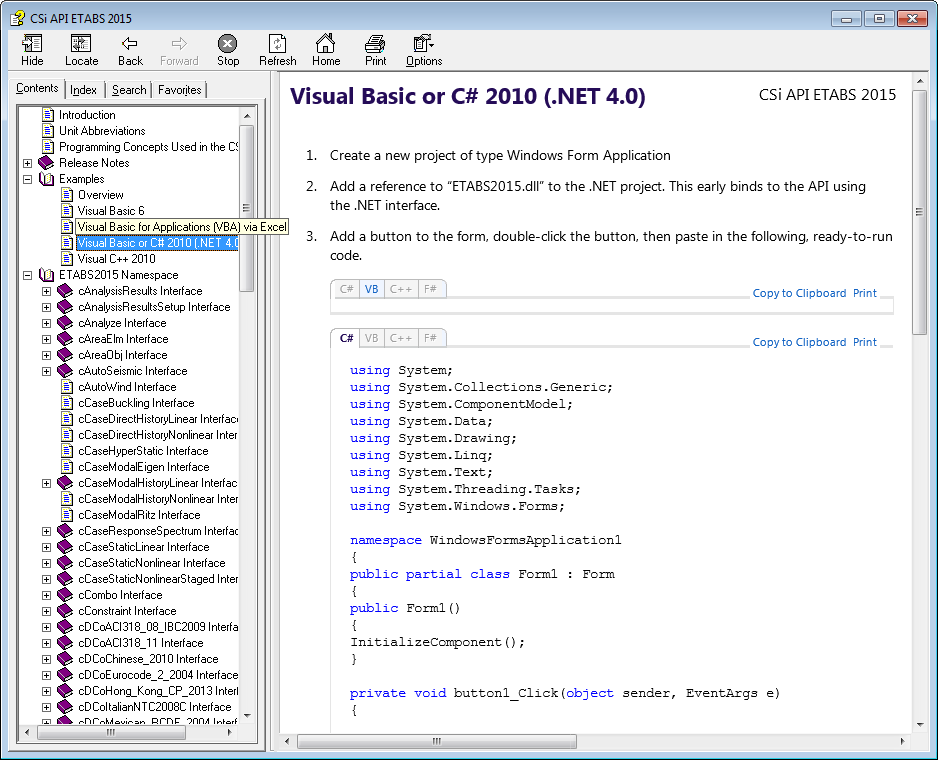 Significant enhancements included in ETABS 2013 v13.2.0, v13.2.1, and v13.2.2:
The Auto-Relabel All option that was available in ETABS v9 has been restored.
Russian material property and section property libraries have been added.
ASCE 41-13 guidelines for performance-based design have been implemented for frame hinge definitions, performance-point calculations, and the behavior and acceptance criteria for panel-zones and BRBs (buckling-restrained braces).
Masonry is now defined as a separate material rather than a type of concrete material.
Multiple named mass-source definitions can now be created and used for different load cases.
The Singapore National Annex has been added as an option to the Eurocode 8-2004 response spectrum function.
Notional load patterns can now be based on snow loads as well as other gravity loads.
User control is now provided for the handling of self-weight in the end offset portions of beam members.
The speed of analysis has been increased for most load cases.
The iteration strategy for nonlinear static and nonlinear direct-integration time-history load cases has been made more adaptive to typically improve convergence behavior and to reduce the time of analysis.
The line-search algorithm is now available for nonlinear static analysis.
Steel frame design for the Indian IS 800:2007 code now implements the changes in Amendment Number 1.
The display of design input parameters for steel frame design overwrites has been enhanced.
Canadian design codes (i.e., CSA A23.3-04 and CSA S16-09) now include snow loads in the default design combinations.
Multiple enhancements have been made for composite beam design affecting the control of the design process, the look and functionality of the interactive design form, the format and content of the output, and other improvements.
Shear wall design per the Indian IS 456:2000 code now allows separate control in the major and minor directions for enforcing the minimum eccentricity due to slenderness.
Several database tables have been added or have had their content expanded, including the listing of object unique names where applicable.
Table set definitions are now saved in the text model file.
Significant enhancements include:
The iteration algorithm for nonlinear direct-integration time-history analysis has been enhanced to improve the rate of convergence and to reduce the time of analysis for certain models.
Significant enhancements include:
The Chinese frame-section databases have been updated with new sections
The import from DXF or DWG files has been enhanced so that imported architectural objects are now kept as part of the ETABS model.
The import of Revit Structure models from CSiXRevit has been enhanced to handle multi-story sloped columns and vertical planar walls with openings on their edges.
The import of 3D DXF or DWG files has been enhanced to automatically generate story levels in ETABS and to divide multi-story walls at story levels.
Other minor enhancements
ETABS 2013 13.1.2 and 13.1.3 Enhancements
Significant enhancements include:
Concrete frame design and shear wall design using the AS 3600-09/NZS 3101-06 codes have been updated for Amendment No. 3 in 2011 affecting the seismic load combinations.
Multiple enhancements have been made to shear wall design using the Eurocode 2-2004 code for the uniform-reinforcing and section-designer section options.
The output table Modal Direction Factors, primarily used for Chinese design, has been enhanced to include the contribution of all mass in the structure, not just the mass in rigid diaphragm constraints.
Database tables can now be exported to an XML file that can be opened by Microsoft Access, allowing the export to Access on machines that do not have it installed.
The loads from staged-construction load cases can now be exported to SAFE.
Multiple enhancements have been made to the import of .DXF files for floor plans, 3D models, and grid systems.
Multiple enhancements have been made to the import and export of IFC 4 files.
Multiple enhancements have been made to the import of SDNF files.
Multiple enhancements have been made to the import of CIS/2 files.
Many additional Open API functions have been implemented.
Significant enhancements included:
Concrete frame design and shear wall design have been added for the Hong Kong CP 2013 code.
Steel frame design using the AISC 360-10 code now provides an option to allow Notional Load cases to be included in design combinations with wind, seismic and response spectrum cases.
Automated wind loading has been added according to the Australian and New Zealand code AS/NZS 1170.2-2011.
Automated wind loading using the diaphragm-extents option for the ASCE 7-02, ASCE 7- 05 and ASCE 7-10 codes that now allows automatic determination of the wind pressure coefficients (windward and leeward) based on the building size.
Frame section properties have been enhanced to separate steel shapes from concrete shapes for more detailed handling of rebar.
The mass source now allows separate control for the self-mass from elements and added masses, in addition to the use of load patterns. Previously self-mass and added mass were considered together.
New database tables have been added that provide pier and spandrel section property information.
Customization of the keyboard shortcuts for the various menu items is now available.
Multiple enhancements have been made for the import and export of IFC files.
Other minor enhancements.
ETABS 2013 is the most sophisticated and technologically-advanced software product available to structural engineers today. It defines the future of building design software, setting the stage for unsurpassed capability and efficiency worldwide.
Built on a foundation of more than 40 years of research and innovation, ETABS 2013 sets the gold standard, yet again. Featuring versatile modeling technology, stunning graphics, efficient numerical methods and powerful optimization algorithms for design, ETABS 2013 offers unmatched levels of integration and productivity. It addresses numerous international building codes while producing complete design reports and schematic construction drawings to meet the demanding needs of the modern structural engineering professional.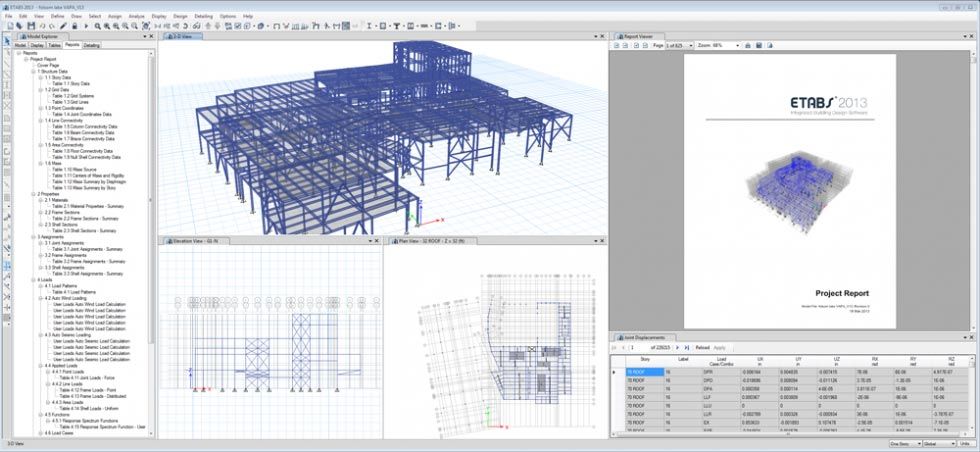 Modeling
Model Explorer for easy access to all program capabilities
Non-modal forms for easy access to select, edit, assign and display
Create models by converting AutoCAD Architectural plan to 3D ETABS objects
Create models by tracing over AutoCAD plans
Ability to add 2D/3D models from templates
Live preview of changes while editing or drafting
Explicit modeling of curved beams, curved floor edges and curved walls
Tracing of building perimeter for quick draw of floor plates
Zoom and rotation during model creation
Create shearwall and elevator cores parametrically
Enhanced editing and selection capabilities
Intelligent snaps for easy model creation
Introducing multi-tower concepts with tower dependent stories and grids
Linear and Nonlinear support properties for point, line and area objects
Area load set definitions for load assignments
All input/output in user defined mixed units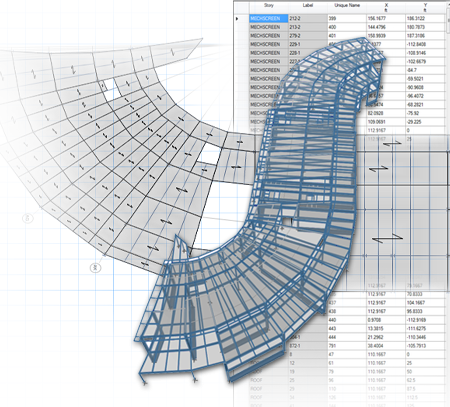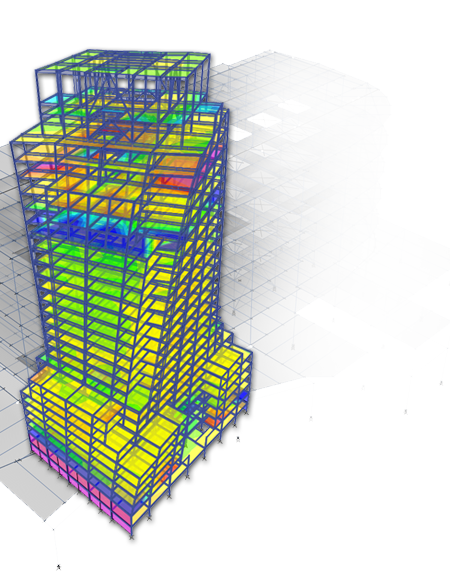 Analysis
64 bit Advanced SAPFire Analysis Engine for increased problem size & solution
New advanced Sparse Solver
New multi-threaded solver for multi-CPU, multi-core systems
Analysis recognizes and uses 64 bit processing for enhanced performance
Model AliveTM feature for instantly seeing the effects of model revision
Enhanced meshing capability with more user control
Range combination for enveloping pattern loads
Construction sequencing allowing changes of members, loads and sections
Time dependent concrete age effects, creep and shrinkage
Geometric modification – shape finding for specified final geometry
Nonlinear layered shell element for shearwall performance based design
Nonlinear element to model Triple Pendulum base isolators
Nonlinear element for multi-linear plasticity for modeling soil supports
Automated nonlinear fiber hinge model for frame elements
Buckling analysis for any applied load from any stressed condition
Linear and nonlinear direct integration time history analysis
Enhanced section cuts – results for wall, slab or diaphragm design
Generalized displacement definitions for deformation measures
Design
Automated static lateral seismic loads implemented for codes listed below
Automated static lateral wind loads implemented for codes listed below
Response Spectrum functions implemented for codes listed below
Auto-permutation of directions and eccentricities for static Wind and Seismic
Updated generation of lateral Notional loads for design
Live Load Reduction factors implemented for codes listed below
Enhanced design output
Updated Steel frame design including seismic for codes listed below
Special considerations for EBF and BRB
Updated Concrete frame design including seismic for codes listed below
Updated Composite Beam design for codes listed below
Added Composite column design for codes listed below
Updated Shearwall design including seismic for codes listed below
Added Masonry Shearwall Design based on ACI 530-11
Updated Steel Joist Design based on SJI 2010
Wall reinforcement design optimization
Curved shearwall design
Drift optimization for steel and concrete frame structures
Drift optimization for shearwall structures
Added Steel connections design including base plates for AISC 360-10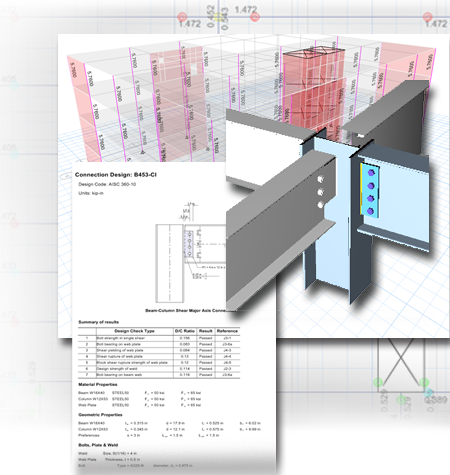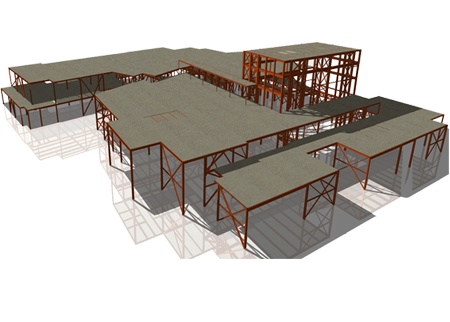 Graphical Display
Increased number of view windows
Ray tracing, textures, lights and shadows for true rendering
Direct X view window with fly through
Display of forces acting on a diaphragm
Vector direction plots of maximum forces/stresses in slabs and walls
Story load, shear and moment diagrams over building height
Print graphics using user specified drawing scale
Output
All input, output and design viewable in table format
Easy access to corresponding tables from Model Explorer
Table display improved, including filters and selection
Automated generation of standard reports
Fully customizable report generation
Report includes tabular and graphical output
Named displays and user text can be added to reports
Report is viewable on screen
Report can create .docx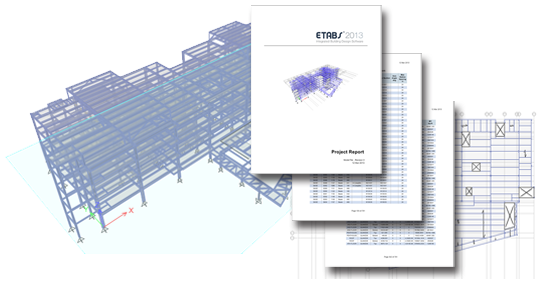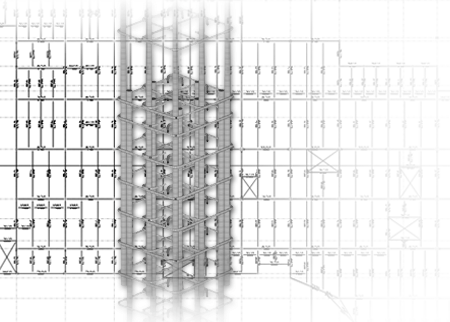 Detailing
Creation of schematic construction drawings for concrete and steel structures
Framing plans and schedules for steel frames
Framing plans and schedules for composite floors
Reinforcing schedules for concrete beams and columns
Reinforcing details for concrete shear wall elevations and cross-sections
Customizable detailing rules
Customizable drawing sheets with multiple views
Automated Bill of Quantities
Print or export to AutoCAD
External Interfacing
ETABS API for custom programming and interfacing
Import/Export of analytical and physical model using IFC2x2, 2X3, 2X4
Import/Export model from/to Revit 2011, 2012 and 2013
Import/Export model from/to AutoCAD 2011, 2012 and 2013
Export graphics to pdf, dxf, bmp, jpeg, giff, png formats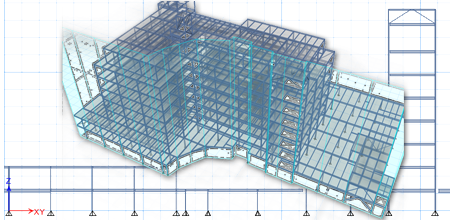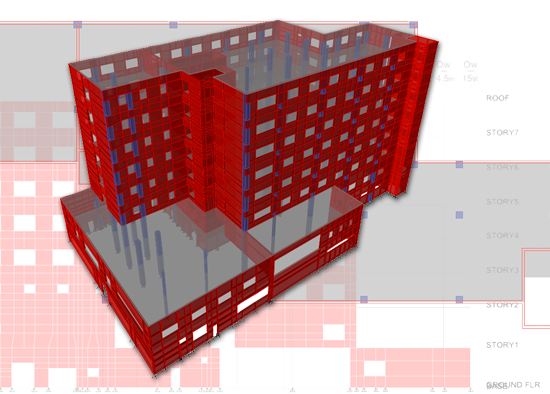 Documentation
Enhanced Online/Offline Help
New User's manuals
Updated Analysis manual
New Tutorials and Watch and Learn movies
New Design manuals
New Verification manual
List of Implemented Design Codes
Static lateral seismic load codes:
ASCE 7-10
AS/NZS 1170 2002
GB50011-2010
Eurocode 8 2004
IS 1893 2002
Italian NTC 2008
NBCC 2010
Turkish Seismic Code 2007
NZS 1170 2004
BOCA 96
ASCE 7-02
ASCE 7-05
NBCC 95
NBCC 2005
NEHRP 97
UBC 94
UBC 97
UBC 97 Isolated
Static lateral wind load codes:
ASCE 7-10
AS/NZS 1170 2002
GB50011-2010
Eurocode 8 2004
IS 1893 2002
Italian NTC 2008
NBCC 2010
Turkish Seismic Code 2007
NZS 1170 2004
BOCA 96
ASCE 7-02
ASCE 7-05
NBCC 95
NBCC 2005
NEHRP 97
UBC 94
UBC 97
UBC 97 Isolated
Response Spectrum functions codes:
AS1170-2007
ASCE 7-02
ASCE 7-05
ASCE 7-10
BOCA 96
GB50011-2010
Eurocode 8-2004
IS 1893:2002
Italian NTC 2008
Italian3274
NBCC 2005
NBCC 2010
NBCC95
NEHRP97
NZS1170-2004
NZS 4203
Turkish Seismic Code 2007
UBC 94
UBC 97
Live Load Reduction factors codes:
ASCE 7-95
ASCE 7-05
ASCE 7-10
AS/NZ 1170.1-2002
Chinese GB 50009-2012
Eurocode 1991:2002
Hong Kong COP 2011
Indian IS 875-1987
NBCC95
NBCC2005
NBCC2010
UBC97
User Parameters (per Section 1607.5, UBC 1997)
User Defined Curves (By Tributary Area)
User Defined (By Stories Supported
Steel frame design codes:
AISC 360-10
AISC 360-05
AISC LRFD 93
AISC ASD 89
AS 4100-1998
BS 5950-2000
CSA S16-09
Eurocode 3-2005
IS 800:2007
Italian NTC 2008
NZS 3404:1997
GB50017-2003
Concrete frame design codes:
ACI 318-11
ACI 318-08
ACI 530-11
AS 3600-09
BS8110-97
CSA A23.3-04
Eurocode 2-2004
Hong Kong CP 2004
IS 456:2000
Italian NTC 2008
KCI-1999
Mexican RCDF 2004
NZS 3101:2006
Singapore CP 65:99
TS 500-2000
GB50010-2010
Composite beam design codes:
AISC 360-10
AISC 360-05
BS 5950-1990
CSA S16-09
Eurocode 4-2004
GB50017-2003
Shearwall design codes:
ACI 318-11
ACI 318-08
AS 3600-09
BS 8110-97
CSA A23.3-04
Eurocode 2-2004
Hong Kong CP 2004
IS 456:2000
Mexican RCDF 2004
NZS 3101:2006
Singapore CP 65:99
TS 500-2000
GB50010-2010
Composite Column Design Codes:
AISC 360-10
JGJ3-2010, CECS159:2004, JGJ138-2001